Oliver's Autism Guide
AUTISM - A Guide To Oliver
When out and about situations arise where Oliver's behaviour can draw attention. We find ourselves explaining about Oliver and his autism. As an unobtrusive means of explanation and a strategy to avoid verbal repetition, we produced an information leaflet / guide.

The guide has proved useful. It is easy to read and a concise description of Oliver. The guide has been used on holiday, with relatives and at school. We are grateful to Tammy Glaser for the idea.

Oliver's guide can be downloaded here as 2 Word files. Right mouse click on these links and choose 'save target as' from the drop down menu that appears. Select a convenient location for the files to be stored e.g. My Documents or Desktop and click 'save'.

guide_page1.doc
guide_page2.doc
Hopefully Oliver's guide may serve to provide some ideas / suggestions for you to use and modify to produce your own pamphlet. The two graphics (below) show the content of the Word files.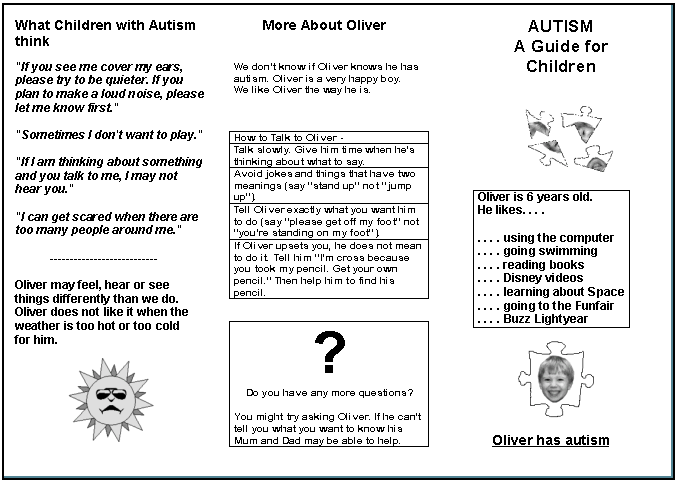 guide_page1.doc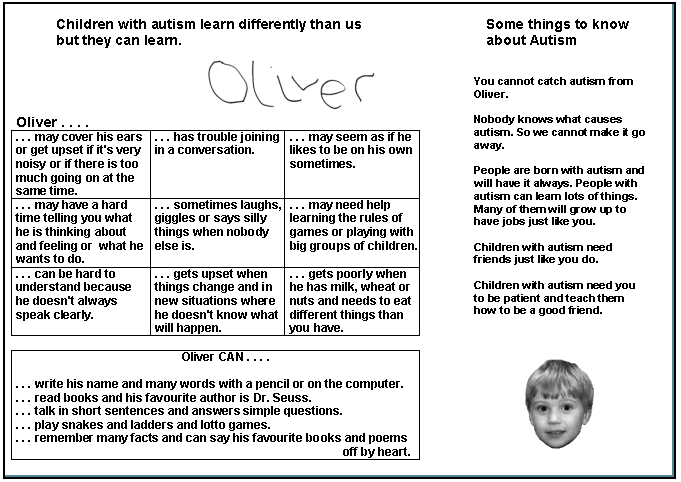 guide_page2.doc